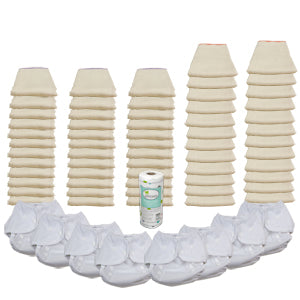 OsoCozy-Thirsties
Better-Fit Prefold Basic Packages with Thirsties Duo Covers
PackageA-BF-T-W-S
Regular price
$187.95
$0.00


Our Basic Prefold Cloth Diapering Packages make buying cloth diapers simple. This package includes all the prefold diapers and covers you need thru 30 lbs! With this package you can wash diapers just every 2-4 days making your laundry load easier. Our Better Fit prefolds do not require pins or fasteners. Simply tri-fold the diapers into the cover and you are done.
This package includes:
Looking to order the better fit prefold basic package but it has been out of stock for a couple of months now. Any idea when they will be in stock?

This package shoul become available in the next 2-3 weelks. We are awaiting a new shipment of prefolds. Thank you !

Hi. I have a 11 week old and want to switch. To cloth. What does "infant" size mean? I dont want to spend this much money and they are to small or only good for short time.

Better fit - infant size prefolds are meant to fit babies from 6-16 lbs, with an unwashed dimension of 12.5 x 13.5 inches.
---
More from this collection