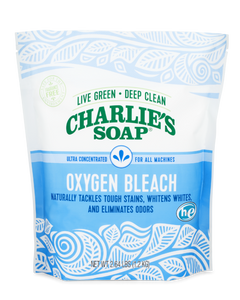 Charlie's
Charlie's Soap Oxygen Bleach
CSOB
Regular price
$11.99
$0.00
Charlie's Soap Oxygen Bleach: Non-Chlorine Bleach Alternative Powder
Charlie's Soap Oxygen Bleach naturally releases safe peroxide and oxygen to tackle tough stains, brighten whites and eliminate odors. It can be used with anything washable and is safer for the environment than traditional bleach.  No perfumes, no chlorine and no residue left in your laundry! Charlie's Soap delivers the good old fashioned sweet smell of clean. If you want flowers, go pick some!
Chlorine-free.

 

Our concentrated Oxygen Bleach formula cleans all the way to the fiber, leaving residue-free fabric that is clean, soft, and smelling fresh.
Hypoallergenic. Made with zero perfumes, fillers, or chlorine. Ideal for those with sensitive skin.
Ultra-concentrated.

 

Our convenient oxygen bleach powder packs a powerful punch. As little as two tablespoons per load will do the trick.
How to Use Non-Chlorine Bleach for Laundry
Use Charlie's Soap Oxygen Bleach as a booster for a brighter, deeper clean with every wash:
Step 1. Choose either very warm or hot water.
Step 2. Add two tablespoons of Charlie's Soap Oxygen Bleach directly into your washing machine drum.
Step 3. Combine with  Charlie's Soap Laundry Powder and let your cycle run as normal.
Charlie's Soap Oxygen Bleach is color-safe, but be sure to always follow garment care instructions.
Ingredients
Sodium Carbonate Peroxide, Sodium Carbonate, Sodium Metasilicate.
QUESTIONS & ANSWERS
Have a Question?
Be the first to ask a question about this.
Ask a Question
---
More from this collection