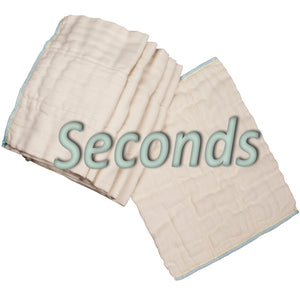 OsoCozy
OsoCozy Bamboo/Cotton Prefolds Factory Seconds Dozen
PPFSBOC-IS
Regular price
$22.99
$0.00
Factory Seconds - OsoCozy Bamboo Organic Prefold Cloth Diapers
Diaper Service Quality (DSQ)
Limited to sizes and quantities on hand.
Prefold Seconds sold by the dozen
These are second-quality prefolds because they are in some way flawed. Flaws include being slightly crooked or wrinkled or having loose threads or the dimensions could be a little off or they may have small grease or dirt stains (stains that generally will wash out). Diapers may also be labeled with third-party tags. Given that they will be used as cloth diapers, these flaws will not make much of a difference in use.
Save Money
Buying seconds is a great way to save money or get cheap prefold cloth diapers without sacrificing the great function you expect. These diapers are discounted 30-40% off retail price. Save an addition 10% when you buy 3 dozen or more, 20% if you buy 7 dozen or more.
OsoCozy Bamboo Prefold Seconds
| | | | | |
| --- | --- | --- | --- | --- |
| Size | Layering | New Dimensions | Baby Wt. | Price |
| Infant | 4x8x4 | 12" x 16" | 7-15 lbs | $23.99 |
| Infant Better Fit | 4x8x4 | 12.5" x 13.5" | 6-16 lbs | $22.99 |
| Premium | 4x8x4 | 14.5" x 22" | 15-30 lbs | $39.99 |
| Premium Better Fit | 4x8x4 | 14.5" x 16" | 14-30 lbs | $29.99 |
*Bamboo prefolds shrink about 9% in width and 13% in length. Just a little less than 100% cotton prefolds.

Terms and Conditions
PLEASE NOTE: If you are not satisfied with the diapers you can return them for a refund of the item purchase price or exchange within 30 days provided they are unwashed and unused and returned to us with proper care. We do not provide for return shipping on this special offer nor do we refund your original shipping. If you are not sure if you want to keep them you can test wash a single diaper and we will still accept your return. These are seconds and some are nicer than others. We do not allow you to return a portion of your order, it is all or nothing.
QUESTIONS & ANSWERS
Have a Question?
Be the first to ask a question about this.
Ask a Question
---
More from this collection