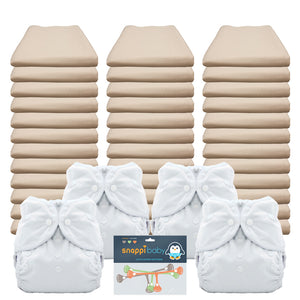 OsoCozy-Thirsties
Unbleached Flat Economy Packages with Thirsties Duo Covers
EconFlatUN14
Regular price
$98.95
$0.00
Our super soft Osocozy Unbleached Flats are paired with 4 Thirsties Duo Diaper Covers, and 1 package of Snappi Diaper Fasteners. The economy packages make a great starter package and provide enough diapers so that you only have to launder every 2-3 days.
3 Dozen Unbleached OsoCozy Flat Diapers
4 Thirsties White Duo Diaper Wraps (Your choice of size 1 or 2 in Snap Closures)
1 (3pack) Snappi Diaper Fasteners in Coral, Gray, and Bamboo
Size 1 covers fit from 6-15 lbs. Size 2 covers fit from 15-35 lbs. The flat cloth diapers fit from approximately 6 to 30 pounds. If you start with the size one, you can later purchase the size 2 covers and continue to use the flat diapers. These OsoCozy unbleached flat diapers are a generous 27.5x30.5 inches prior to washing and shrink to square at about 26x26 inches.
In what country are these made? From what country's cotton?

The flat diapers in the package are made in Pakistan with Pakistani cotton. The covers are made in the USA by their manufacturer Thirsties.

When will we be able to order more?

The unbleached flats are out of stock and they should be back in about 6 weeks. Once they arrive the Packages should become available again. Thank you for your time and understanding.

What are the snappi diaper fasteners used for; where on the diaper cover. Do the diaper covers have snaps on them?

The snappi fasteners are used to secure the cloth diaper to the baby. They most commonly used with flats and prefolds. The Thirsties Duo Covers come in a choice of snaps and velcro closure.

What size are the flats? What is the material?

The flats in this package measure 27 x 30.5 inches - sized to shrink to a square for easy folding. They are made of 100% unbleached cotton birsdeye weave for extra softness.
---
More from this collection